Ardmore distillery is one of the many under-rated producers in Scotland and is unusual in being a peated highlander.  This medium peated style is quite distinctive and well removed from the often medicinal/coastal smoke you might find from the better know, big hitters, on Islay.  A large proportion of the distillery's output provides Teacher's Highland Cream with its characteristic suggestions of earthy peat, indeed this large distillery was built in 1898 specifically to fulfil this role in Adam Teacher's blends.
The distillery's current official releases as well worth trying and can certainly offer good value for money, while the independent bottlers continue to issue a number of interesting, if variable, casks to interest those of us wishing to dig a bit deeper.  This 19 year old, under the Single Malts of Scotland label, is one of a number of recent 1992 casks and has received favourable reviews from several trusted sources, so I'm delighted to get an opportunity to taste it and see what's what.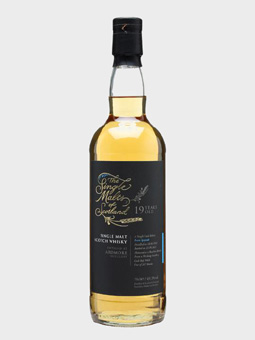 1992-2011, 49.3% abv, 207 btls
Nose:
Gentle smoked malt at first with some clean, flinty, mineral suggestions and a touch of wet wool. A wave of fresh fruit soon joins the typically mild, Ardmore peat; kiwi, papaya, melon, kumquat and then some additional sweetness develops in the form of milk chocolate and foam bananas. Relatively straight-forward aside from the fruit but fabulously clean and fresh, with just enough sooty/rooty peat to add balance.
Taste:
As in the nose, a veritable fruit basket at first with melon and apricot alongside candied pineapple and sweet oranges, all surrounded by a well-integrated, earthy thread of smoke. A hint of violet around the edges but happily it avoids becoming soapy and adds some extra complexity. A little gingery spice, white pepper and vanilla are present also, yet this always feels spirit-forward and all the better for it.
Feel:
Creamy, coating and slightly oily.
Finish:
Medium length and continuing on soft smoke and a sweet/sour mix of fresh and crystallised fruit, some supporting vanilla, wool and faint floral notes.
Comment:
An excellent Ardmore, sympathetically matured and bottled at just the right moment for the best of its fantastically fruity personality to shine through. The fresh, delicately smokey profile of this cask almost reminds of the excellent Bowmore's from 1993 and if you enjoy this style, albeit earthy here rather than coastal, then it's quite the bargain as well, while it lasts.
Find the best price to buy Ardmore 19 year old, Single Malts of Scotland